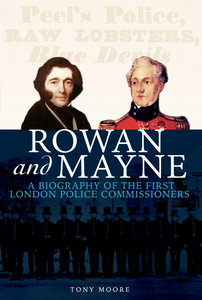 ROWAN AND MAYNE
$2560

$25.60
Tax included.
Shipping
calculated at checkout.
---
---
ROWAN AND MAYNE:
A BIOGRAPHY OF THE FIRST LONDON POLICE COMMISSIONERS
by Tony Moore

There have been many famous partnerships in history. The Wright brothers gave the world flight, Marie and Pierre Curie made incredible advances in medicine, Larry Page and Sergey Brin started the company that became Google, now an integral part of information technology, Gilbert and Sullivan gave us the light opera, Lennon and McCartney were the dynamic duo that changed popular music for ever, and there are many others. But in all the lists that have been conjured up, one partnership is always missing.
This is the story of that missing partnership: Charles Rowan and Richard Mayne, brought together by a third man, Robert Peel, to found the Metropolitan Police in 1829. They were appointed entirely on the recommendations of influential people who knew them, or knew of them. But here, Peel had a remarkable 'fluke of good fortune', because they went on to form one of the most influential partnerships in British history. For it is out of their 'inventive competence' that the modern police service grew. Their shaping of the Office of Commissioner and their consolidation of the operational independence of the police were their ultimate achievement, for it was an example to all future commissioners and, indeed, chief officers throughout the United Kingdom and beyond.
Never was a government better served than the British government was by Charles Rowan and Richard Mayne during the first ten years of the life of the Metropolitan Police. With their combined abilities and an industry, seldom equalled, they formed and led a police force that was equalled by none.
Frequently they were met by vexatious opposition, yet, despite the difficulties, they became one of the most iconic partnerships in London's long and often turbulent history. It is impossible to accurately measure the effect it had, not only on London but the remainder of the United Kingdom, what was then the Empire, now the Commonwealth, and a number of other Western democracies. From the actions they took in those early days stems the policing system that still exists in many countries today. And yet the part played by Rowan and Mayne remains largely unrecognised.
Since the formation of the Metropolitan Police in 1829, twenty-seven people have held the role of Commissioner. The great commissioners were leaders who confronted and overcame difficulties, but none made a greater contribution than Rowan and Mayne.
This book is the first full-length biography of both men.