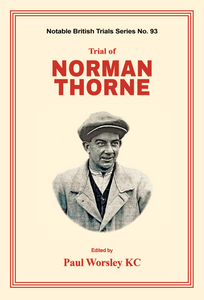 TRIAL OF NORMAN THORNE
$2560

$25.60
Tax included.
Shipping
calculated at checkout.
---
---
TRIAL OF NORMAN THORNE
edited by Paul Worsley KC

Official Notable British Trials series No. 93
Should chicken farmer Norman Thorne have been executed for the murder of his fiancée? He had the motive, the means and the opportunity, and after her death he cut up her body and buried the parts in the chicken runs.
Sir Arthur Conan Doyle, on the eve of the execution, wrote:
"I do not think that the case was absolutely made out… There is no way of putting things right if the man's life is taken, and it would be a terrible thing if he were not guilty of murder."
There are compelling arguments that Thorne ran the wrong defence and should have escaped the hangman's noose.
You decide.
A4 hardback, dust jacket, 368 pages. Illustrated, bibliography, index.
Mango Books has been granted exclusive permission by William Hodge Holdings to use the official series imprint, and Trial of Israel Lipski was the first new title to be added to the official series since 1959, bearing the volume number 85.
Further volumes are in preparation.