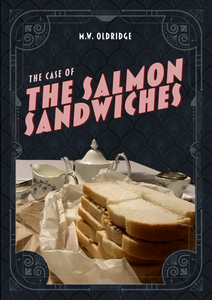 The Case of the Salmon Sandwiches
$2560

$25.60
Tax included.
Shipping
calculated at checkout.
---
---
THE CASE OF THE SALMON SANDWICHES
by M.W. Oldridge

East Cornwall, 1930.

Sarah Ann Hearn was a widow who devoted herself to the care of her sick relatives. Her sister, Minnie, who lived with her, was a chronic gastric patient. An aunt had passed away a few years earlier, and Minnie's own demise, when it came, was not unexpected. But then the painful death of a nearby farmer's wife – apparently after consuming Mrs Hearn's homemade salmon sandwiches – provoked local suspicion.
Was something more sinister going on? What had happened to the lonely widow's supply of arsenic-based weedkiller? And who was Mrs Hearn, really?

A neglected story with all the intrigue and suspense of its better-known contemporaries, the strange truth behind the case of the Salmon Sandwiches has finally been unearthed.