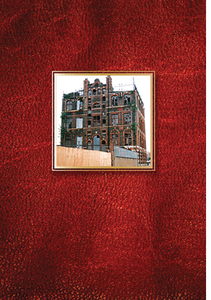 THE WHITECHAPEL ALBUM
$1920

$19.20
Tax included.
Shipping
calculated at checkout.
---
---
THE WHITECHAPEL ALBUM:
JACK THE RIPPER'S EAST END IN 1995
compiled by Loretta Lay and Adam Wood

A4 landscape softcover, 87 colour photographs from 1995 and six from the 1960s.

Although the occasional photograph had been taken of locations associated with Jack the Ripper since 1888 by journalists, interested individuals and early authors, it was in the 1960s, with the advent of the more affordable camera, that budding young photographers with an interest in the Ripper case began visiting Whitechapel, Spitalfields and Aldgate, in the process creating a visual record of the area. The black-and-white images captured by the likes of John Gordon Whitby, Stewart Evans and Christian Wheeldon gave the now-familiar sites a uniquely haunting air.

Among these visitors during the Sixties was Ray Luff, a keen Ripperologist who went to the murder sites in 1965. As increasing numbers of visitors with cameras and video equipment visited Whitechapel throughout the 1970s and 80s so that the area became more frequently catalogued, Ray himself returned in the mid-1990s to comprehensively photograph the streets and sites he had captured thirty years previously.

His collection of more than 430 photographs taken in 1995 was acquired by true crime bookdealer Loretta Lay, and 87 of these have been carefully selected for this book by Adam Wood, author and editor of Ripperologist magazine, to represent the area as it was a quarter of a century ago, when many reading this will have first become familiar with the buildings and streets of Whitechapel.

THE WHITECHAPEL ALBUM contains images of buildings such as the dilapidated Board School on Durward Street and the long-neglected Soup Kitchen for Poor Jews on Brune Street, both since completely renovated into expensive City apartments, alongside images of the more recently demolished Mitre Square. How many visiting the area in the 1990s stopped for a sandwich at the little café at the top of Church Passage?

Other striking images include Wood's Buildings, still accessible in 1995, and the Wash House on Old Castle Street, closed and redeveloped within three years of Ray Luff's visit.

For some, the 87 photographs in this book will be the first time these places have been seen, while for many they will represent a nostalgic step back in time. Whereas today the area has seen change at an incredible rate, with more fully expected, the mid-1990s Whitechapel seems now, looking back, to have to been the cusp on which development began. Many of the Victorian buildings were certainly run down, abandoned and neglected, but they still stood - it was possible to get a glimpse of Jack the Ripper's East End.

The photographs in this book are a vivid reminder of those times.
This book was previously published as a limited edition hardcover version in 2016.