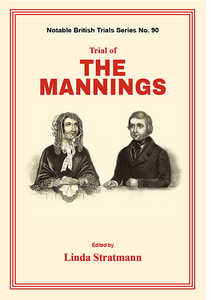 TRIAL OF THE MANNINGS
$2560

$25.60
Tax included.
Shipping
calculated at checkout.
---
---
TRIAL OF THE MANNINGS
edited by Linda Stratmann

The crime of Frederick and Maria Manning in 1849 has all the elements of a classic; the brutal cold-blooded murder of a friend for money, the discovery of a buried decomposing corpse, the escape of the couple and dramatic pursuit and capture by the police.
It was a national sensation which culminated in the last public double hanging of a husband and wife, an event which shocked Charles Dickens and played a part in the later abolition of public executions.
But one mystery remains – both Frederick and Maria asserted their innocence, each claiming that the other alone was guilty. Was either of them telling the truth?  
This new examination of the case offers a compelling resolution.

Official Notable British Trials Series No. 90.
We are delighted to announce that the world-renowned book series NOTABLE BRITISH TRIALS, published from 1905 to 1959 by William Hodge, is to be revived after a gap of 58 years, with new cases added to the existing catalogue of 83 titles, which include the trials of Dr Crippen, Florence Maybrick, William Palmer and Oscar Wilde.
Mango Books has been granted exclusive permission by William Hodge Holdings to use the official series imprint, and Trial of Israel Lipski was the first new title to be added to the official series since 1959, bearing the volume number 85.
Further volumes are currently in preparation.