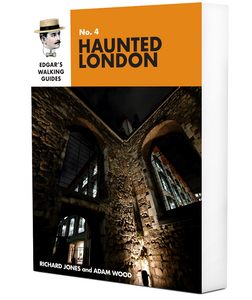 Edgar's Guide to Haunted London
$1283

$12.83
Tax included.
Shipping
calculated at checkout.
---
---
Edgar's Guide to Charlie Chaplin's London
By Richard Jones and Adam Wood
Imagine yourself hunting for ghosts in old alleyways and tumbledown churchyards, or gazing into sinister courts to view whatever horrors lurk therein. Picture yourself nervously sipping a pint as your eyes dart nervously around the shadowy recesses of a hanuted pub, or stepping into the timeless interior of an ancient church and hoping to catch a glimpse of the phantoms that roam within.
Well, now you need imagine and picture no more, because, armed with Edgar's pocket-sized guide to supernatural London, you will be able to do all of these spooky things and many more besides.
A Guide to Ghostly London.
As with all the Edgar's Guides, this one is designed to help you to seek out the haunted hotshots of a City that has a rich array of ghostly activity to entice and enthrall the fearless ghost hunter.
You'll have the opportunity to stand outside the most haunted house in London, home to something of such evil malevolence that few who have encountered it have escaped with their reason intact.
Then there's the ancient monastic foundation from which the moans and groans of 14th century plague victims are said to emanate on moonless winter nights.
How about the old graveyard where tradition holds that the performance of a certain ritual will cause a spirit to rise from the tomb and haunt you for the remainder of the night?

A Memorable Experience.
There is something truly thrilling about searching for ghosts when the city is devoid of its living population. And for this unique guide we have chosen some of the most atmospheric locations imaginable.
The route has been carefully laid out to ensure that you don't walk down a busy well-lit thoroughfare when there's a perfectly good dark and sinister warren of alleyways nearby.
With this little guidebook in your hand, you'll be able to stand at the locations where ghosts are said to lurk, on your own, with your family or friends, or possibly even a total stranger you've encountered along the way and talked into joining your sojourn into the supernatural.
Then, one of you can read the ghost story to the others in your spookiest voice and watch as a look of fright crosses their faces.
Turning to leave, you might even notice that the total stranger who was standing there listening but a moment before, has somehow vanished into thin air!
Haunted Pubs Aplenty.

Of course, there is no institution in London that deserves to be haunted than an historic pub.
To that end, we have chosen a good selection of such hostelries at which you'll be able to rest and tell these ghost stories over a libation of your choice.
You'll be amazed by the fact that almost every pub passed has a ghostly tale associated with it. We've only included the best and the spookiest, so you can rest assured... wait. On seconds thoughts, you'll have no rest - so creepy are some of the stories.
A Fun Day or Night Out.

So, if you are looking for a fun and eerie way to while away a few hours in London, if you want to visit the haunted places that other guide books dare not go, then pop this spooky little guide in your pocket, and head off into the haunted hinterland of supernatural London.