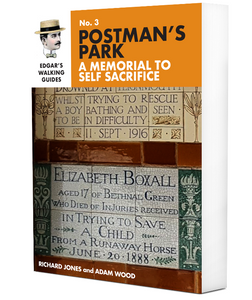 Edgar's Guide to Postman's Park
$1283

$12.83
Tax included.
Shipping
calculated at checkout.
---
---
Edgar's Guide to Charlie Chaplin's London
By Richard Jones and Adam Wood
This is an unusual guide in that, although it is packed with facts and history, the distance you will have to walk to uncover the tragic and moving stories featured on it is around 30 feet! But, those 30 feet will be the most story-filled 30 feet you will ever walk!
Postman's Park is a tranquil haven located but a stone's throw from St Paul's Cathedral. It is a lovely spot at which to while away a pleasant morning or an afternoon, taking in the air, enjoying the profusion of colourful flora, whilst struggling to believe that you are, in fact, still in central London.
On the west side of the little garden you will find a lean-to porch, upon the wall of which are a series of tiles, each relating, in the briefest of descriptions, the story of an ordinary man, woman or child who endeavoured to save the life of a fellow human being - often a total stranger - and, in so doing, sacrificed their own life.


The Memorial to Heroic Self-Sacrifice.

The idea for the memorial  - which has been described as "The People's Westminster Abbey" - came from the Victorian artist George Frederic Watts (1817-1904), and it is thanks to his determination and persistence that we are able to enjoy these fascinating reminders of humble, everyday heroes, who made the ultimate sacrifice so that others might live.
Watts came up with the idea for the memorial in the 1860s, but, thanks to official indifference it would be almost forty years before, in July 1900, the first of the plaques was set in place.
Each Plaque Tells a Story.
On each plaque is the name of a man, woman or child - sometimes several sacrificers are remembered on the same plaque - together with the date of their death and the rescue and a brief synopsis of the manner in which they met their end. 
Now You Can Learn the Full Stories.
Normally, people just stand and look at the plaques and then move on. But, now, thanks to Edgar's Guides, you can read the full story - culled from the Victorian and early 20th century newspapers - behind every one of the plaques. You can while away an hour or so reading about the likes of Alice Ayres, Sarah Smith and little Soloman Galaman, and marvel at the bravery and selflessness that they demonstrated in their final moments. Wherever possible, we have sourced images of them, so that each one of these heroes becomes a living, breathing person whose sacrifice becomes even more poignant when you see them as fellow human beings, not just names on a memorial.
Enjoy and Remember.

Watts wanted people to come to this little haven in which to read about the people mentioned, and then go away inspired to emulate the selflessness demonstrated by these remarkable and ordinary people.
And, as you read their stories, in this little volume which covers the stories behind every one of the 52 plaques, you too will be be inspired, and will certainly discover how, even in the darkest moments, there are those who will bravely rise to the challenge, no matter how great the sacrifice.