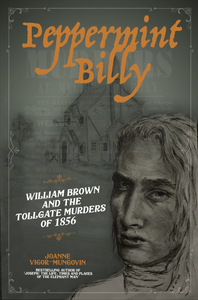 PEPPERMINT BILLY
$1920

$19.20
Tax included.
Shipping
calculated at checkout.
---
---
PEPPERMINT BILLY:
WILLIAM BROWN AND
THE TOLLGATE MURDERS OF 1856

by Joanne Vigor-Mungovin

The tale of 'Peppermint Billy' has become almost a Leicestershire folklore tale over the years, with the murderer becoming something of a mythical bogeyman. Now, for the first time, the true story is told in full.

In the summer of June 1856 the whole of Leicestershire was horror-struck at news of the gruesome double murder of a seventy year old tollgate keeper and his nine year old grandson at Melton Mowbray.
William Brown, a native of nearby Scalford, was the prime suspect. A returned convict who had been previously sentenced to ten years' transportation, 'Peppermint Billy' had supposedly sworn vengeance against the person who had sent him to the other side of the world.
Tracked down and put on trial for the gruesome murders at the Thorpe Road tollgate, William Brown was the last person publicly hanged in Leicester.
From his father's lawless Judge and Jury Clubs to William's ten year transportation sentence and incarceration in the notorious New Norfolk Lunatic Asylum in Van Dieman's Land, the author examines the troubled life of 'Peppermint Billy' and the events leading to the double murder and his execution.
Softcover, 264pp.
Illustrated, references, bibliography and index.
JOANNE VIGOR-MUNGOVIN was born and raised in Leicestershire. Her first book, the bestselling Joseph: The Life, Times and Places of the Elephant Man (2016), led her to work with Michael Portillo on Channel 5's Hidden History of Britain television series, and after locating Joseph Merrick's lost and forgotten final resting place in 2019 she worked with BBC East Midland's 'Inside Out'. Joanne currently works as a freelance consultant for Historic England, and is the archivist for the Leicester Civic Society. She has a regular radio 'On This Day' slot on Leicester Community Radio, and is a volunteer at the little pre-loved bookshop at the old lock keeper's cottage at Foxton Locks, near Market Harborough. This is her second book.