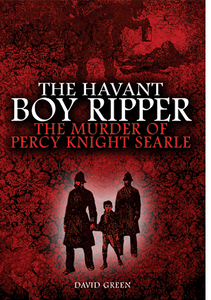 THE HAVANT BOY RIPPER
$2560

$25.60
Tax included.
Shipping
calculated at checkout.
---
---
THE HAVANT BOY RIPPER:
THE MURDER OF PERCY KNIGHT SEARLE
by David Green
Just after six o'clock on the evening of 26 November 1888, an 8-year-old schoolboy by the name of Percy Knight Searle was brutally stabbed to death in the centre of Havant near Portsmouth.
The crime provoked hysteria in the town, igniting fears that Jack the Ripper had switched hunting grounds from London's East End to the Hampshire coast. But as the murder investigation unfolded, evidence increasingly pointed to another young boy as the culprit ‒ 11-year-old Robert Husband, the son of a coal yard keeper. He was duly arrested and sent for trial at Winchester.
Yet the murder of Percy Searle is a complex and ambiguous case, and the truth is not easily discerned, even when the facts seem clear. Havant was full of secrets, and several witnesses were obviously lying. What really happened on that dark, dismal evening all those years ago?
The Havant Boy Ripper is the first full-length study of the Percy Searle murder case. Meticulously researched, it contains all the ingredients of a classic Victorian whodunit: a dead body, a blood-stained knife, a floundering police chief, and a cast of enigmatic and fallible characters caught up in tragic events. But importantly, it is also a book about the aftershocks of child murder, and the damage caused by blame, punishment and loss.
Hardback.
Buy Kindle.