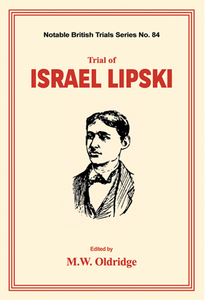 TRIAL OF ISRAEL LIPSKI
$2560

$25.60
Tax included.
Shipping
calculated at checkout.
---
---
TRIAL OF ISRAEL LIPSKI
edited by MW Oldridge
The 1887 murder of Miriam Angel dragged the spotlight away from Queen Victoria's jubilee, and threw it upon one of the poorest areas in London's East End. Something had happened in Miriam's little room in a Batty Street tenement which contrasted starkly with the celebratory mood of the nation, and, whatever it was, it defied easy explanation. Israel Lipski, her upstairs neighbour, had been discovered hiding beneath the bed on which the body lay. She had been physically assaulted and extensively burned with acid; he had swallowed a little acid - too little to do much harm - and, when restored to consciousness, had a strange story to tell about a murderous conspiracy enacted by two of his new employees.
It was left to a jury at the Central Criminal Court, under the uncertain direction of Mr Justice James Fitzjames Stephen, to filter the truth from this strange array of circumstances. With the single exception of his own account of what had taken place, the evidence loomed over Lipski - it was his acid, bought from a shop earlier that morning; the door to Miriam's room had been locked from the inside; his employees knew little of him, and nothing of her. And yet, doubts lingered in some quarters. Perhaps Lipski had told the truth, and, if he had, trial by due process would find itself pressed for authority by an upstart competitor - trial by journalism.
This book reproduces the testimony given at the trial, together with an introduction, a chronology and appendices. After 130 years, can Lipski's mystery be resolved?
Official Notable British Trials Series No. 84.

Hardback.
Buy Kindle.


We are delighted to announce that the world-renowned book series NOTABLE BRITISH TRIALS, published from 1905 to 1959 by William Hodge, is to be revived after a gap of 58 years, with new cases added to the existing catalogue of 83 titles, which include the trials of Dr Crippen, Florence Maybrick, William Palmer and Oscar Wilde.
Mango Books has been granted exclusive permission by William Hodge Holdings to use the official series imprint, and TRIAL OF ISRAEL LIPSKI is the first new title to be added to the official series since 1959. It will bear the volume number 84.
Also currently in preparation are TRIAL OF LOUISE MASSET and TRIAL OF PERCY LEFROY MAPLETON, with further volumes planned.