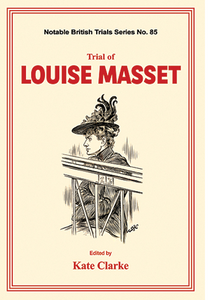 TRIAL OF LOUISE MASSET
$2560

$25.60
Tax included.
Shipping
calculated at checkout.
---
---
TRIAL OF LOUISE MASSET
edited by Kate Clarke
Shortly before 6.30 pm on Friday 27 October 1899, the still-warm body of a child was found on the floor of a lavatory on Platform 3 at Dalston Junction Railway Station; he had been bludgeoned and suffocated.
The child was identified as three year old Manfred Masset, and his mother, Louise, was quickly suspected of the murder. She denied it, saying that by the time the body was discovered she had already arrived in Brighton, where she had arranged to spend the weekend with her young lover, Eudore Lucas.
So why had she truly removed the child from the loving care of his nurse, Nellie Gentle – and what were the true circumstances of this shocking murder?
The trial of Louise Masset for the murder of her son Manfred was opened on Wednesday 13 December 1899 at the Old Bailey, and it ran for five days. The story that unfolded was disturbing, and certain aspects of it remain unresolved. Who were the two strange women with whom Louise said she had arranged to hand over her son? Were they real or fictitious – and, if they did exist, were they operating as baby farmers?
Louise Masset was found guilty of the murder of her son and was hanged on 9 January 1900, the first person to be executed in England in the twentieth century.
This book reproduces the testimony given at the trial, together with an introduction, a chronology and appendices.
Official Notable British Trials Series No. 85.
Hardback.
Buy Kindle.


We are delighted to announce that the world-renowned book series NOTABLE BRITISH TRIALS, published from 1905 to 1959 by William Hodge, is to be revived after a gap of 58 years, with new cases added to the existing catalogue of 83 titles, which include the trials of Dr Crippen, Florence Maybrick, William Palmer and Oscar Wilde.
Mango Books has been granted exclusive permission by William Hodge Holdings to use the official series imprint, and TRIAL OF ISRAEL LIPSKI was the first new title to be added to the official series since 1959, bearing the volume number 84.